Overview of Antenna Measurement Techniques
---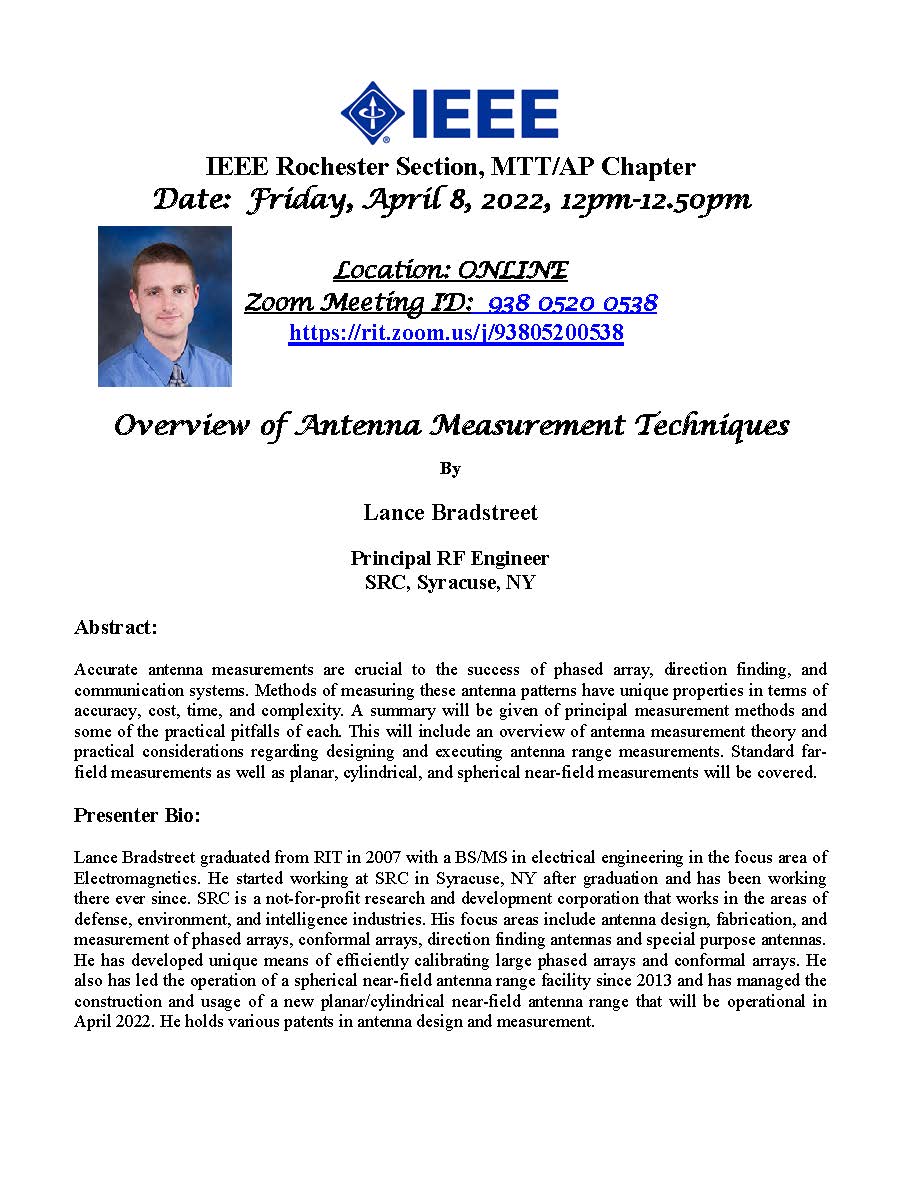 Accurate antenna measurements are crucial to the success of phased array, direction finding, and communication systems. Methods of measuring these antenna patterns have unique properties in terms of accuracy, cost, time, and complexity. A summary will be given of principal measurement methods and some of the practical pitfalls of each. This will include an overview of antenna measurement theory and practical considerations regarding designing and executing antenna range measurements. Standard far-field measurements as well as planar, cylindrical, and spherical near-field measurements will be covered.
---
Date and Time
Location
Hosts
Registration
---
Date: 08 Apr 2022
Time: 12:00 PM to 12:50 PM
All times are (GMT-05:00) EST
Add Event to Calendar
Zoom Meeting ID: 938 0520 0538
https://rit.zoom.us/j/93805200538
Starts 04 April 2022 09:10 AM
Ends 08 April 2022 12:00 PM
All times are (GMT-05:00) EST
No Admission Charge
---
Speakers
Lance Bradstreet
Biography:
Lance Bradstreet graduated from RIT in 2007 with a BS/MS in electrical engineering in the focus area of Electromagnetics. He started working at SRC in Syracuse, NY after graduation and has been working there ever since. SRC is a not-for-profit research and development corporation that works in the areas of defense, environment, and intelligence industries. His focus areas include antenna design, fabrication, and measurement of phased arrays, conformal arrays, direction finding antennas and special purpose antennas. He has developed unique means of efficiently calibrating large phased arrays and conformal arrays. He also has led the operation of a spherical near-field antenna range facility since 2013 and has managed the construction and usage of a new planar/cylindrical near-field antenna range that will be operational in April 2022. He holds various patents in antenna design and measurement.
---
Media
---