IEEE Canada Technology Leadership Webinar Series - XVI
---
Moon Lander Program and Science in Space

---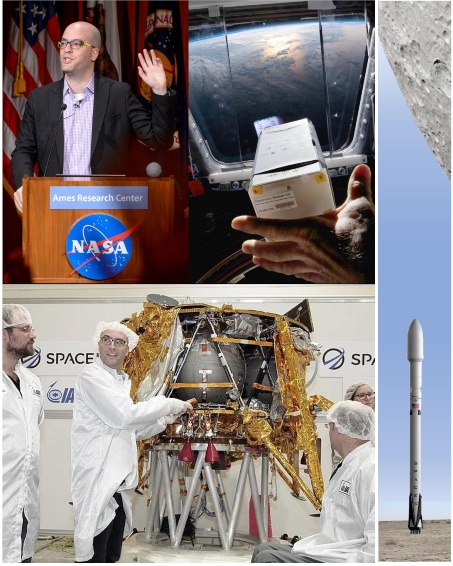 This presentation will provide a behind the scenes look at the challenges and opportunities of working on three vastly different projects, all leading toward potential scientific studies in space. Attendees will learn about the technical innovations and obstacles associated with building and launching a private interplanetary lander, which in 2019 was the first private mission to reach the moon. The presentation will then talk about the development of a STEM project that was launched to the International Space Station in February 2022. The goal of this project is to study and control the growth of biological organisms in space. Lastly, the presentation will discuss a molecular imaging system to study living organisms at the cellular level. This system based on Optical Coherence Tomography and machine learning is capable of providing non-invasive imaging of living tissue at the molecular level, allowing longitudinal studies of healthy and diseased tissue over time to better understand the development, progression and potential treatment response for diseases such as cancer. These projects work toward a long-term goal of future lunar missions providing scientific platforms for molecular biology experiments studying the development, progression, and treatment of disease in space.
Speaker: Yonatan Winetraub, SpaceIL
Date: Wednesday, November 9, 2022
Time: 3.00 pm - 4.30 pm (EDT)
Venue: WebEx
More information: Event page
Contact person: Dale Tardiff <dale@innovativepower.ca>
---
IEEE Canada Technology Leadership Webinar Series: IEEE Canada is hosting a webinar series on Technology Leadership. We are inviting professional associations, learned societies, think tanks, governmental agencies, and other institutions to participate and contribute speakers. This webinar series is a platform bringing our thought leaders from different stakeholders, from all walks of life to present their views and advocate their positions on science, technology, society, and future economy. It will be open and free to the general public.
Disclaimer: The statements and opinions expressed by the webinar speakers are those of the speakers, they do not necessarily represent that of the IEEE Canada.
---
Date and Time
Location
Hosts
Registration
---
Date: 09 Nov 2022
Time: 03:00 PM to 04:30 PM
All times are (GMT-05:00) America/Toronto
Add Event to Calendar
New Webinar Link will be provided closer to the event.
Starts 19 May 2022 12:00 AM
Ends 05 November 2022 12:00 PM
All times are (GMT-05:00) America/Toronto
No Admission Charge
---
Speakers

Yonatan Winetraub
of SpaceIL
Dr. Yonatan Winetraub is a co-founder of SpaceIL, a $100M Israeli non-profit organization focused on interplanetary space exploration. SpaceIL launched the first private interplanetary robotic mission to the Moon, and on April 11, 2019 made Israel only the 7th nation to orbit the moon and reach the lunar surface. A key goal of SpaceIL is to inspire the next generation of space researchers and to promote STEM education and scientific exploration. Winetraub is also an instructor at Stanford University, Department of Structural Biology, School of Medicine where his lab focuses on developing molecular imaging and machine learning technology for cancer diagnostics.
Winetraub has spoken about space technology and radical shifts in the space industry to audiences all over the world and has been recognized in Forbes Israel 30 under 30 and Globes Israel 40 under 40. In addition, he was part of the International Space University Program at NASA Ames studying how we can create Martian colonies using shelter and water from Martian lava caves. Yonatan received PhD in Biophysics from the Stanford University, USA in 2021 and he graduated with a MSc degree in Electrical Engineering from Tel Aviv University in 2013. He has published numerous papers in the fields of aerospace engineering, cancer imaging, and neuroscience.
---
Agenda
3.00 pm - 3.03 pm: Opening and welcome (Dale Tardiff).
3.03 pm - 4.15 pm: Presentation (Yonatan Winetraub).
4.15 pm - 4.27 pm: Q&A (Yonatan Winetraub).
4.27 pm - 4.30 pm: Closing remarks (Dale Tardiff).
* Time is given in Eastern Daylight Time (EDT)
---
Memberships
IEEE: www.ieee.org/membership/join/index.html
IEEE Communities: www.ieee.org/communities/index.html
Join hands with the world's largest association of technical professionals !
---