IEEE-PT Engenharia em Discussão - Segurança no Ciberespaço
---
A Secção de Portugal promove, desde dezembro de 2020, uma série de webinars focados em diversas áreas de engenharia. De participação gratuita e em formato online, o IEEE-PT convida assim todos(as) os/as interessados(as) a se inscreverem através da presente página.
(INSCRIÇÃO OBRIGATÓRIA para receber o link da reunião online)
---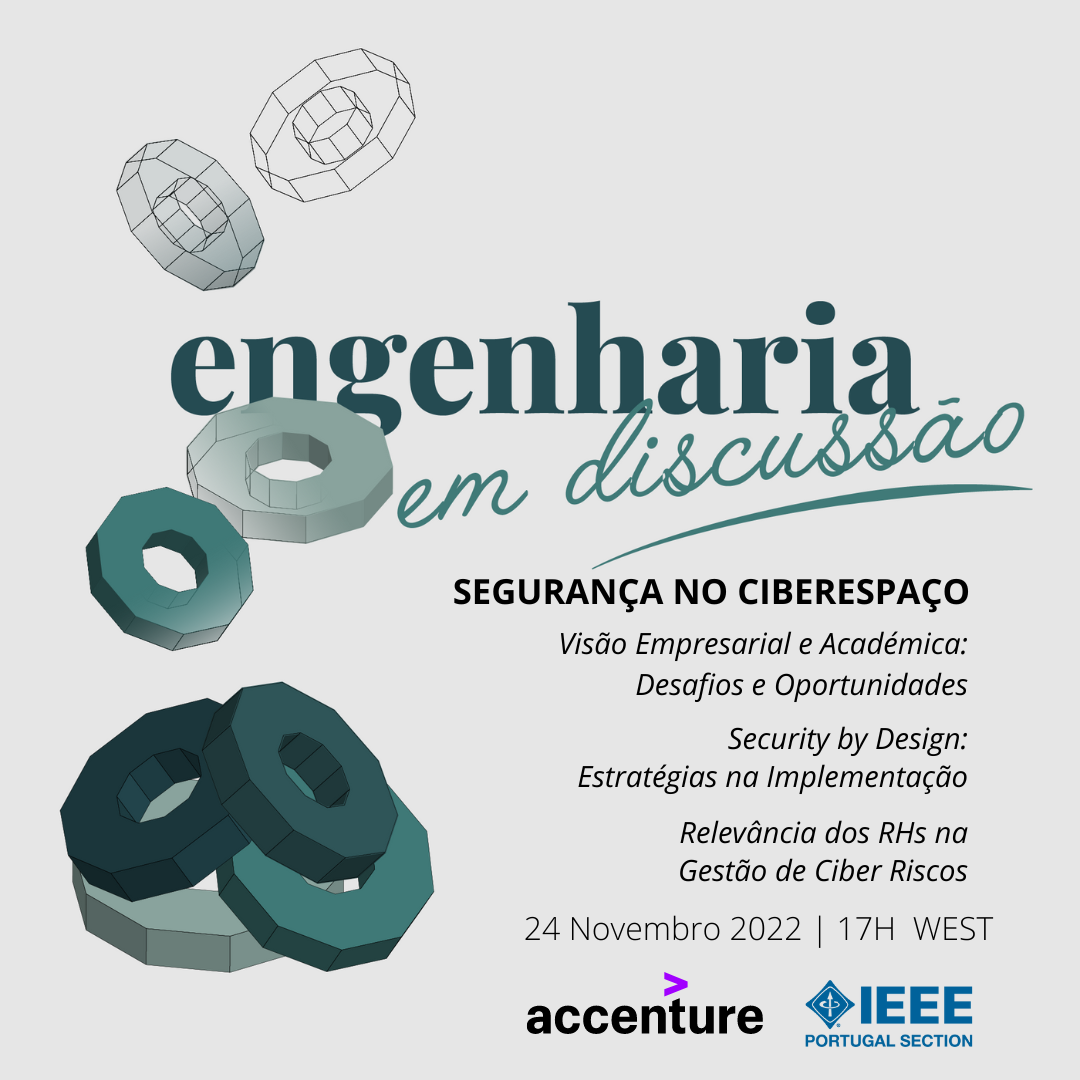 Tema ---
Segurança no Ciberespaço
Painel ---
[Moderador] Rúben Viegas, Accenture
Ana Ferreira, U. Porto
Mário Antunes, I.P. Leiria
Pedro Inácio, U. Beira Interior
Pedro Pinto, I.P. Viana do Castelo
Tópicos em discussão ---
(i) Visão empresarial e académica: desafios e oportunidades
(ii) Security by design: estratégias na implementação
(iii) Relevância dos RHs na gestão de ciber riscos
Biografias dos Oradores ---
Uma organização de ---
IEEE Portugal Section
Accenture
---
Date and Time
Location
Hosts
Registration
---
Date: 24 Nov 2022
Time: 05:00 PM to 06:30 PM
All times are (GMT+00:00) Portugal
Add Event to Calendar
If you are not a robot, please complete the ReCAPTCHA to display virtual attendance info.

Starts 06 October 2022 12:00 PM
Ends 24 November 2022 03:00 PM
All times are (GMT+00:00) Portugal
No Admission Charge
---
---
Agenda
Tópicos em discussão ---
(i) Visão empresarial e académica: desafios e oportunidades
(ii) Security by design: estratégias na implementação
(iii) Relevância dos RHs na gestão de ciber riscos
---
(INSCRIÇÃO OBRIGATÓRIA para receber o link da reunião online)
+info em webinars.ieee-pt.org
---