Research Conclave 2022
---
IEEE CAS Bangalore Chapter, is the local chapter of Circuit and System Society. It consists of nearly 180 members, which includes professionals from Industry and academia, students, and associates from multiple colleges across Karnataka.
---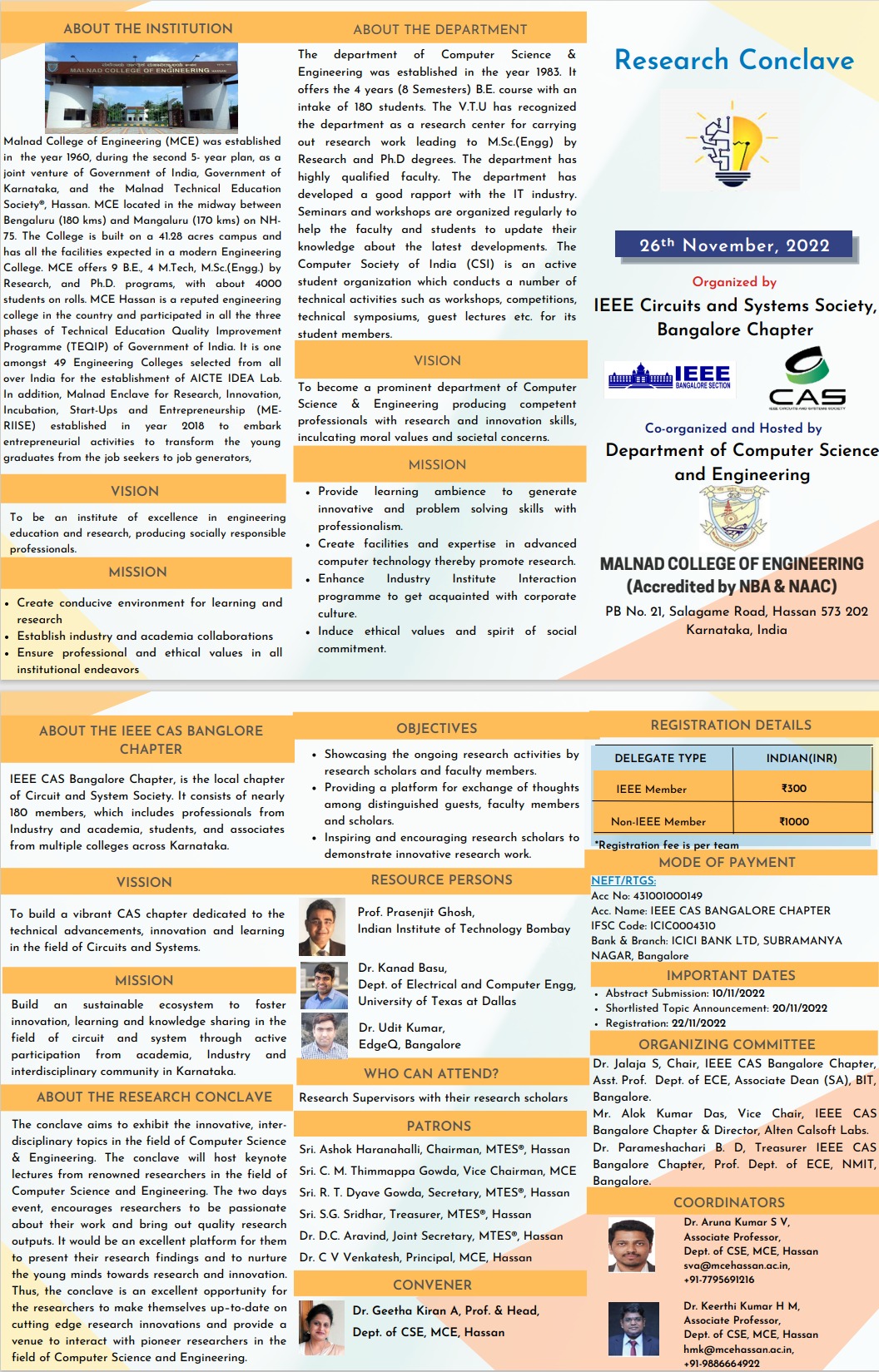 The conclave aims to exhibit the innovative, inter-disciplinary topics in the field of Computer Science & Engineering. The conclave will host keynote lectures from renowned researchers in the field of Computer Science and Engineering. The two days event, encourages researchers to be passionate about their work and bring out quality research outputs. It would be an excellent platform for them to present their research findings and to nurture the young minds towards research and innovation. Thus, the conclave is an excellent opportunity for the researchers to make themselves up–to-date on cutting edge research innovations and provide a venue to interact with pioneer researchers in the field of Computer Science and Engineering.
---
Date and Time
Location
Hosts
Registration
---
Date: 26 Nov 2022
Time: 08:00 AM to 08:00 PM
All times are (UTC+05:30) Chennai
Add Event to Calendar
Starts 19 October 2022 07:49 PM
Ends 25 November 2022 07:49 PM
All times are (UTC+05:30) Chennai
No Admission Charge
---
Speakers

Prof Prasenjit Ghosh
of IIT Bombay, India
Topic:
How to prepare for project funding
Prof Ghosh will talk about the points to take care when preparing for application for funding research from govt.
Biography:
Dr. Prasenjit Ghosh is a Professor of Chemistry at IIT Bombay. He received his Ph.D. from Columbia University, New York, in 1998. Following two post-doctoral stints at Brookhaven National Laboratory and the University of California, Santa Barbara, he joined IIT Bombay in 2003. He received the CRSI Bronze Medal (2014) from the Chemical Research Society of India and The Distinguished Lectureship Award (2011) of the Chemical Society of Japan. He was on the Editorial Advisory Boards of Organometallics, American Chemical Society (2017-2019), and Polyhedron, Elsevier, since 2011. His interests are in the domains of organometallic chemistry in homogeneous catalysis and biomedical applications. Professor Ghosh served as a Council Member of the Chemical Research Society of India (CRSI) from 2017 to 2020 and is currently a Core Member of the Project Advisory Committee (PAC) on Inorganic & Physical Chemistry, Science and Engineering Research Board (SERB), Govt. of India since 2021.
Email:
Address:Department of Chemistry , IIT Bombay, Mumbai, Maharashtra, India, 400076
Topic:
Choosing topics for research prepare to publish
Dr. Basu will talk about how to choose topics for research and points to take care when publishing it.
Biography:
Kanad Basu received his Ph.D. from the department of Computer and Information Science and Engineering, University of Florida. His thesis was focused on improving signal observability for post-silicon validation. Post-PhD, Kanad worked in various semiconductor companies like IBM and Synopsys. During his PhD days, Kanad interned at Intel. Currently, Kanad is an Assistant Professor at the Electrical and Computer Engineering Department of the University of Texas at Dallas, where he leads the Trustworthy and Intelligent Embedded Systems (TIES) lab. Prior to this, Kanad was an Assistant Research Professor at the Electrical and Computer Engineering Department of NYU. He has authored 1 book, 2 US patents, 2 book chapters and several peer reviewed journal and conference articles. Kanad was awarded the "Best Paper Award" at the International Conference on VLSI Design 2011 and an honorable mention award at VLSI Design 2021. Several News agencies have covered his research including NBC Austin and CBS Dallas-Fort Worth. Kanad's current research interests are functional safety, hardware and systems security, Deep learning hardware and Quantum computing. His research is funded by the National Science Foundation, Semiconductor Research Corporation and DARPA.
Email:
Address:Department of Electrical and Computer Engineering,, 800 West Campbell Road, Dallas, Texas, United States, 75080-3021
---
Agenda
Showcasing the ongoing research activities by research scholars and faculty members.
Providing a platform for exchange of thoughts among distinguished guests, faculty members
and scholars.
Inspiring and encouraging research scholars to demonstrate innovative research work.
---
Vision
To build a vibrant CAS chapter dedicated to the technical advancements, innovation and learning in the field of Circuits and Systems.
Mission
Build an sustainable ecosystem to foster innovation, learning and knowledge sharing in the field of circuit and system through active participation from academia, Industry and interdisciplinary community in Karnataka.
---
Media
---