Site safari: The Oosterweel connection (Antwerp - Belgium)
---
---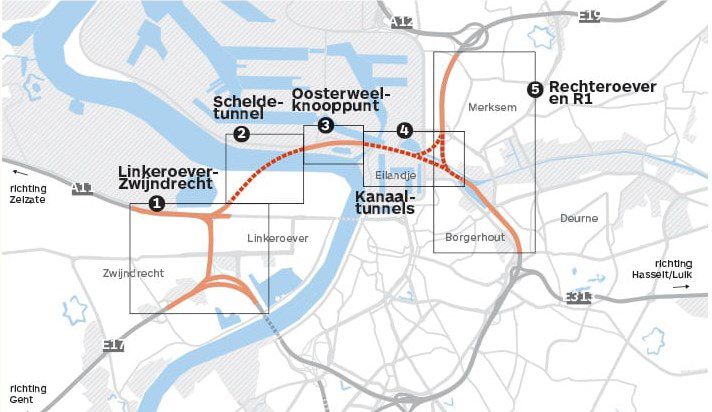 The Oosterweel connection is part of 'The Great Connection'. 'The Great Connection' is the project for the future
with which the Flemish government is building a city and region where it is good to live, work, do business and visit.
By building the Oosterweel, the Antwerp ring road, the R1, will be made closed completely in the north with an
additional river Scheldt crossing next to the existing Kennedy tunnel and the Liefkenshoek tunnel.
The works on the Oosterweel connection are the largest infrastructure works ever in Belgium and have a total cost
of approximately 4.5 billion euros.

Given its large size, the total project has been split into 5 project components
1) Left Bank
2) Scheldt tunnel
3) Oosterweel Junction
4) Channel tunnels
5) R1-North
REGISTRATION by sending email to: C.G.M. (Kees) van 't Klooster, Secretary IEEE Benelux LMAG, before 14 April 2023.
(KEEP THE DATES: EXACT TIMES TO BE COMMUNICATED LATER!)
---
Date and Time
Location
Hosts
Registration
---
Date: 27 Apr 2023
Time: 09:00 AM to 06:00 PM
All times are (UTC+01:00) Brussels
Add Event to Calendar
---
---
Agenda
(EXACT STARTING AND ENDING TIME WILL BE COMMUNICATED LATER)
During this visit you will receive an explanation (approximately 45 minutes) about the how and why of this project,
the state of affairs, the future view and the expected planning. By means of a site safari (approx. 2 hours) over the
Linkeroever-Zwijndrecht site you get a look behind the scenes of these immense works.
---
---