The 11th IEEE Israel AP/MTT and Tel Aviv University Underwater Acoustics Symposium
---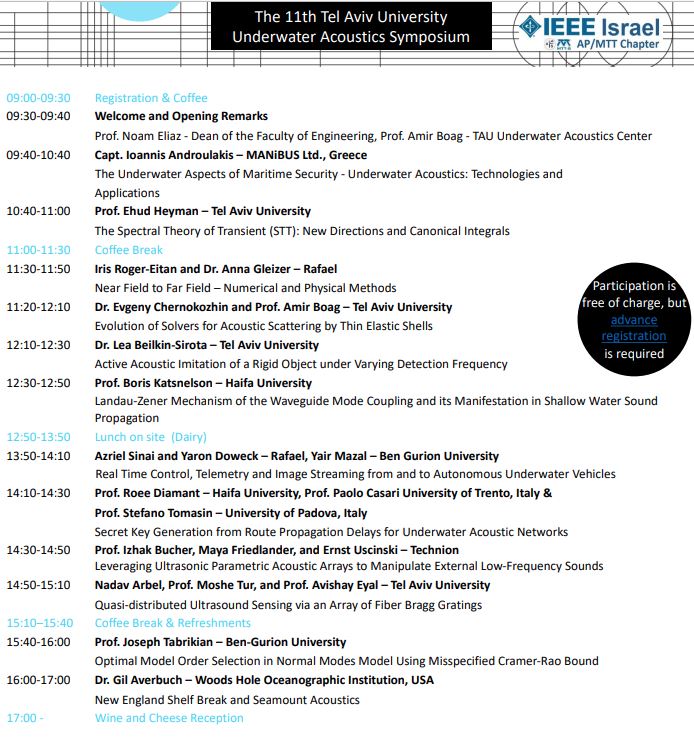 Dear Colleagues,
You are cordially invited to attend The 11th IEEE Israel AP/MTT Chapter and Tel Aviv University Underwater Acoustics Symposium, Thursday 15 June, 2023.
A preliminary program of the conference is attached.
Participation is free of charge, but advance registration at http://web.eng.tau.ac.il/boag/conf2/ is required.
The same link is embedded in the program.
Please spread this message.
Best regards,

Amir Boag and Or Lasri
===============================================================
Prof. Amir Boag
Department of Physical Electronics, School of Electrical Engineering
Faculty of Engineering, Tel-Aviv University
Tel-Aviv 69978, Israel
Phone: +972-3-6408246 E-mail: boag@tau.ac.il
Cellular: +972-50-9422426
Fax: +972-3-6423508 URL: http://www.eng.tau.ac.il/~boag/
---
Date and Time
Location
Hosts
Registration
---
Date: 15 Jun 2023
Time: 09:00 AM to 05:15 PM
All times are (UTC+02:00) Jerusalem
Add Event to Calendar
Tel Aviv University
Tel Aviv, Tel Aviv District
Israel

Building:

Software Engineering building

Room Number:

Rosenblatt Auditorium
---
---
---
Agenda
09:00-09:30 Registration & Coffee
09:30-09:40 Welcome and Opening Remarks
Prof. Noam Eliaz - Dean of the Faculty of Engineering, Prof. Amir Boag - TAU Underwater Acoustics Center
09:40-10:40 Capt. Ioannis Androulakis – MANiBUS Ltd., Greece
The Underwater Aspects of Maritime Security - Underwater Acoustics: Technologies and
Applications
10:40-11:00 Prof. Ehud Heyman – Tel Aviv University
The Spectral Theory of Transient (STT): New Directions and Canonical Integrals
11:00-11:30 Coffee Break
11:30-11:50 Iris Roger-Eitan and Dr. Anna Gleizer – Rafael
Near Field to Far Field – Numerical and Physical Methods
11:20-12:10 Dr. Evgeny Chernokozhin and Prof. Amir Boag – Tel Aviv University
Evolution of Solvers for Acoustic Scattering by Thin Elastic Shells
12:10-12:30 Dr. Lea Beilkin-Sirota – Tel Aviv University
Active Acoustic Imitation of a Rigid Object under Varying Detection Frequency
12:30-12:50 Prof. Boris Katsnelson – Haifa University
Landau-Zener Mechanism of the Waveguide Mode Coupling and its Manifestation in Shallow Water Sound
Propagation
12:50-13:50 Lunch on site (Dairy)
13:50-14:10 Azriel Sinai and Yaron Doweck – Rafael, Yair Mazal – Ben Gurion University
Real Time Control, Telemetry and Image Streaming from and to Autonomous Underwater Vehicles
14:10-14:30 Prof. Roee Diamant – Haifa University, Prof. Paolo Casari University of Trento, Italy &
Prof. Stefano Tomasin – University of Padova, Italy
Secret Key Generation from Route Propagation Delays for Underwater Acoustic Networks
14:30-14:50 Prof. Izhak Bucher, Maya Friedlander, and Ernst Uscinski – Technion
Leveraging Ultrasonic Parametric Acoustic Arrays to Manipulate External Low-Frequency Sounds
14:50-15:10 Nadav Arbel, Prof. Moshe Tur, and Prof. Avishay Eyal – Tel Aviv University
Quasi-distributed Ultrasound Sensing via an Array of Fiber Bragg Gratings
15:10–15:40 Coffee Break & Refreshments
15:40-16:00 Prof. Joseph Tabrikian – Ben-Gurion University
Optimal Model Order Selection in Normal Modes Model Using Misspecified Cramer-Rao Bound
16:00-17:00 Dr. Gil Averbuch – Woods Hole Oceanographic Institution, USA
New England Shelf Break and Seamount Acoustics
17:00 - Wine and Cheese Reception
---