R5 - IEEE-USA President Candidates Forum
---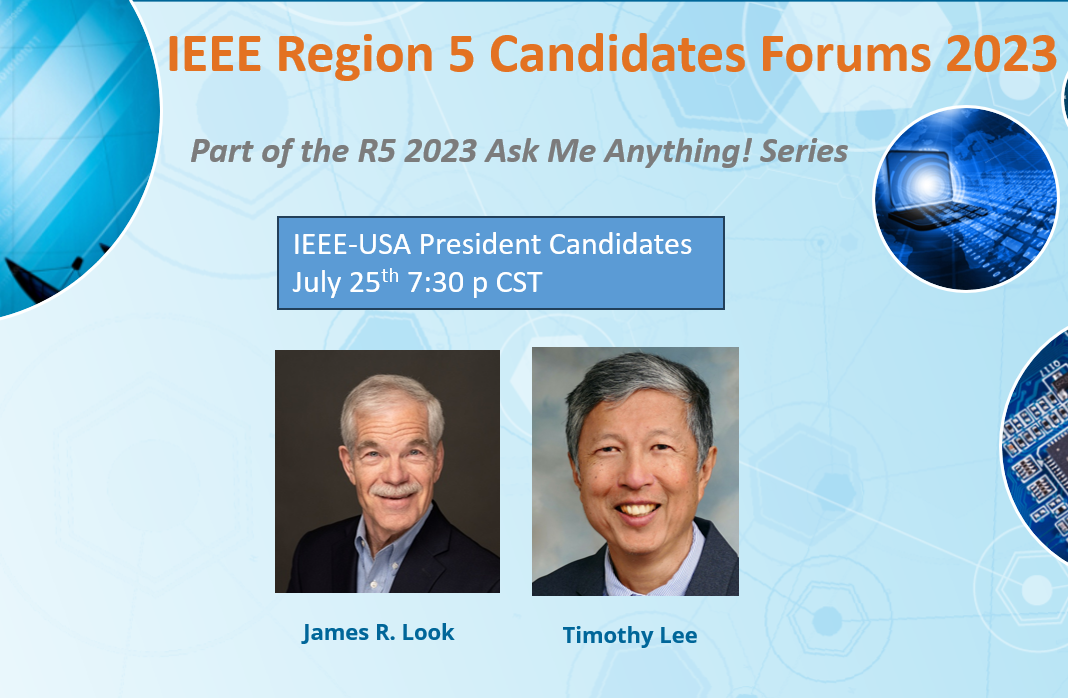 IEEE's strength comes from having strong volunteer leadership, with the support of all of our members. To support member engagement in these important elections, Region 5 will be hosing three IEEE Candidate Forums. This one will be for IEEE-USA President:
IEEE-USA President – 25 July – 7:30p CST
During this one-hour WebEx forum, you will have the opportunity to hear directly from the candidates themselves as well as hear the candidates answer questions submitted by R5 members like you. Register for the forums and submit your questions through the following Vtools Meetings.
Moderator: Candy Robinson, Past President, IEEE-USA
Candidates: Jim Look, Tim Lee
---
Date and Time
Location
Hosts
Registration
---
Date: 25 Jul 2023
Time: 07:30 PM to 08:30 PM
All times are (UTC-06:00) Central Time (US & Canada)
Add Event to Calendar
If you are not a robot, please complete the ReCAPTCHA to display virtual attendance info.

Starts 26 June 2023 12:01 AM
Ends 25 July 2023 07:30 PM
All times are (UTC-06:00) Central Time (US & Canada)
No Admission Charge
---
---