Sistemas productivos ante el cambio climático: problemáticas y alternativas 
---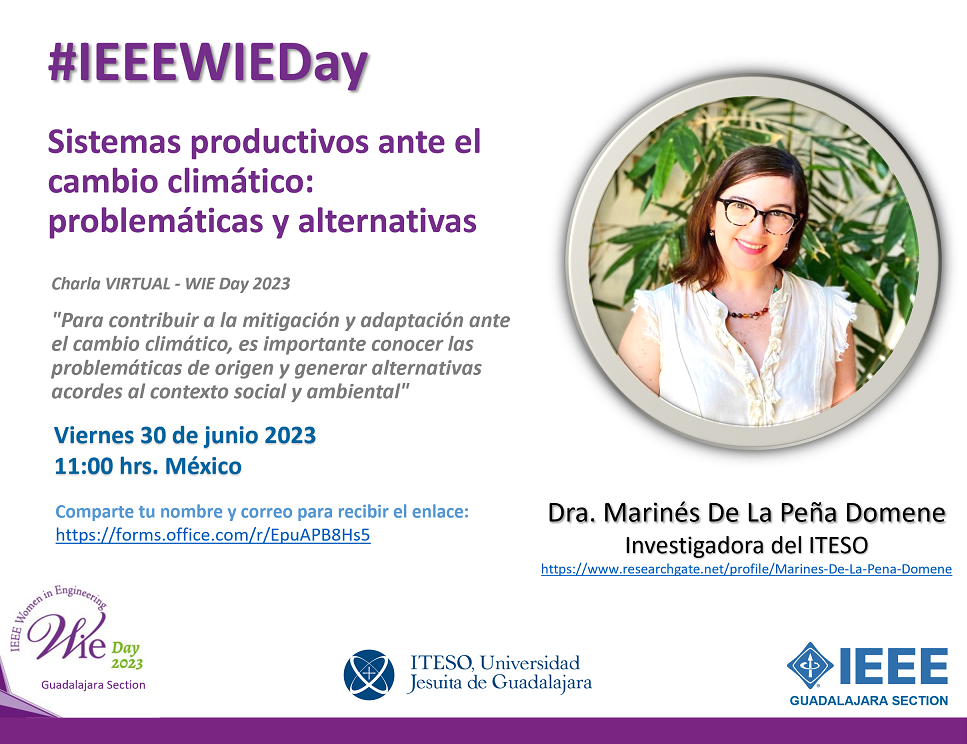 This event that we are organizing from WIE Guadalajara Section according to the theme of WIE Day 2023. Let's remember that in order to help counteract climate change, we must know what are some of the causes.
---
Date and Time
Location
Hosts
Registration
---
Date: 30 Jun 2023
Time: 11:00 AM to 12:00 PM
All times are (UTC-06:00) Guadalajara
Add Event to Calendar
Co-sponsored by

ITESO Univsersity
---
Speakers
Topic:
Sistemas productivos ante el cambio climático: problemáticas y alternativas 
Para contribuir a la mitigación y adaptación ante el cambio climático, es importante conocer las problemáticas de origen y generar alternativas acordes al contexto social y ambiental.
Biography:
La Dra. Marinés De La Peña Domene es Doctora en Ecología y Evolución por la Univsersidad de Illinois en Chicago, Maestra en Ciencias Biológicas por la UNAM. Es miembro del Sistema Nacional de Investigadores (SNI), nivel 1. Forma parte del Programa de Investigación del CIFOVIS en la Universidad ITESO con proyectos relacionados a ecología, biología y biodiversidad.
---
Media
---