Decisions and Taxes Related to Retirement
---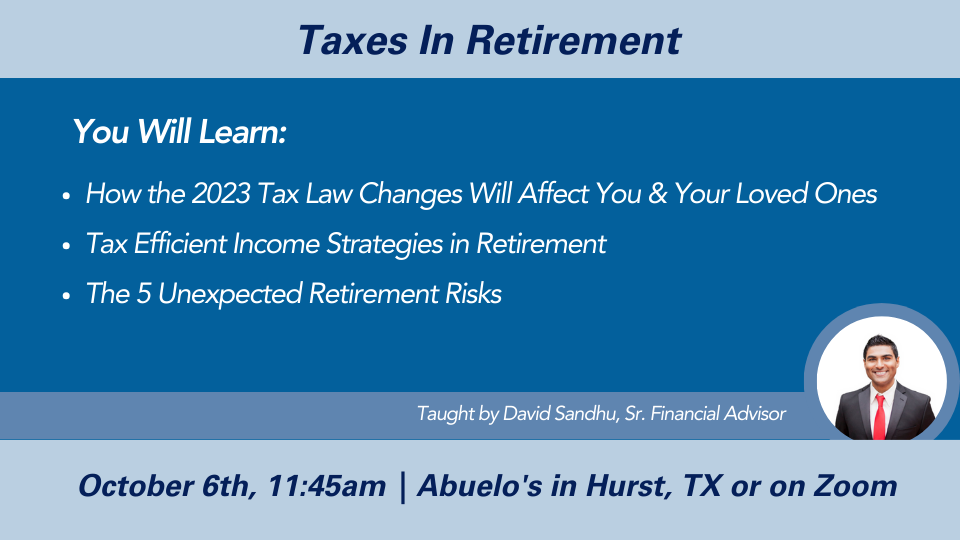 JOIN IN PERSON OR ON ZOOM
Whether you are nearing retirement or already retired, you need to understand how taxes (including new tax law changes) impact your retirement income, as it may be possible to pay less in taxes on your hard-earned dollars.
You Will Learn:
1) Tax Efficient Income Strategies in Retirement (And which buckets to pull from first)

2) The 2023 tax changes and how these could alter your retirement plan

3) The changing rules for a retiring generation of baby boomers

4) The 5 Unexpected Risks to Your Retirement (They might not be what you think)
---
Date and Time
Location
Hosts
Registration
---
Date: 06 Oct 2023
Time: 11:45 AM to 01:30 PM
All times are (UTC-06:00) Central Time (US & Canada)
Add Event to Calendar
Register for Virtual Session: https://us06web.zoom.us/webinar/register/WN_Vvk0h0wdRWSiQfNLShfiVA
Abuelo's
850 Airport Freeway
Hurst, Texas
United States 76054
---
Starts 11 September 2023 03:00 PM
Ends 05 October 2023 12:00 PM
All times are (UTC-06:00) Central Time (US & Canada)
No Admission Charge
---
Speakers
Topic:
Retirement, Taxes and Planning
Biography:
David formerly worked for SpaceX, Raytheon and Lockheed Martin as an engineer before he transitioned to the financial services industry.
After his father passed away, David helped his mom through the financial planning process, and that gave him the spark to pursue a career in financial planning.
David is passionate about serving others and lives by Zig Ziglar's famous saying, "You can have everything in life you want, if you will just help enough other people get what they want." He knows first-hand that true happiness is experienced when helping others and he is always looking for ways to encourage others to reach their goals.
David is a Chartered Retirement Planning Counselor and Financial Advisor with Wise Wealth, LLC – an SEC Registered Investment Advisory Firm. David has a passion for education and understands that the key to successful retirement planning begins with knowledge.
Email:
Address:Texas, United States
---
Agenda
11:45 Meeting Starts
12:00 Order Lunch
12:15 David Sandhu Starts Presentation
1:15 End of Meeting
---