IEEE CTS TEMS Innovation and Creativity: Lessons from Shakespeare
---
IEEE CTS TEMS (Austin) Thinking With Both Sides of Your Brain
---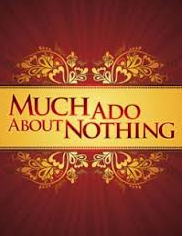 "The greatest scientists are artists as well." –Albert Einstein, 1923
Join us for a great discussion of Innovation and Creativity and a live theater performance of Shakespeare's "Much Ado About Nothing" by Austin Shakespeare at the Long Center (Rollins Hall). (Get your tickets now! This will be an amazing event!)
We'll follow that by joining the cast for a Champagne Happy Hour and networking. Register below in order to join us for the reception---we'll need to know that you are coming...and register a guest as well!
Leadership Lesson from Shakespeare:
Lead Like Much Ado About Nothing's Beatrice & Benedick – One of the earliest and best romantic comedies, Much Ado About Nothing features all the deceit and manipulation we've come to expect in Shakespeare (and much contemporary comedy and business). What makes for a great leadership lesson is what Beatrice and Benedick do in the midst of the rumors, gossip and lies. Both take public positions that they cannot stand each other. Their dialogues are insult-duels (which Beatrice usually wins). Ultimately, however, they have the courage to be honest and admit their true feelings: They love each other.
The leadership lesson here? Honesty is the best policy. The characters who rely on dishonesty (the villains Don John and Borachio) are arrested. The characters who admit what they feel and what they want to do about it (Beatrice and Benedick) end with a strong hint of happily ever after.
Read this article "Shakespeare, Social Media and Social Networks." We'll learn leadership lessons from Shakespeare's Much Ado About Nothing:
Two Things:
1. Get your theater tickets here as well as
2. Register for this event so that we can include you at the Reception!
---
Date and Time
Location
Contact
Registration
---
Date: 16 Nov 2017
Time: 07:00 PM to 10:00 PM
All times are America/Chicago
Add Event to Calendar
Starts 09 October 2017 12:00 AM
Ends 16 November 2017 06:00 PM
All times are America/Chicago
No Admission Charge
---
---
Agenda
7:00 Networking
7:30 Theater Performance
9:30 Champagne Reception and Networking
---
Creativity and Innovation: Thinking With Both Sides of Your Brain
---