San Diego Section 2023 Awards Banquet
---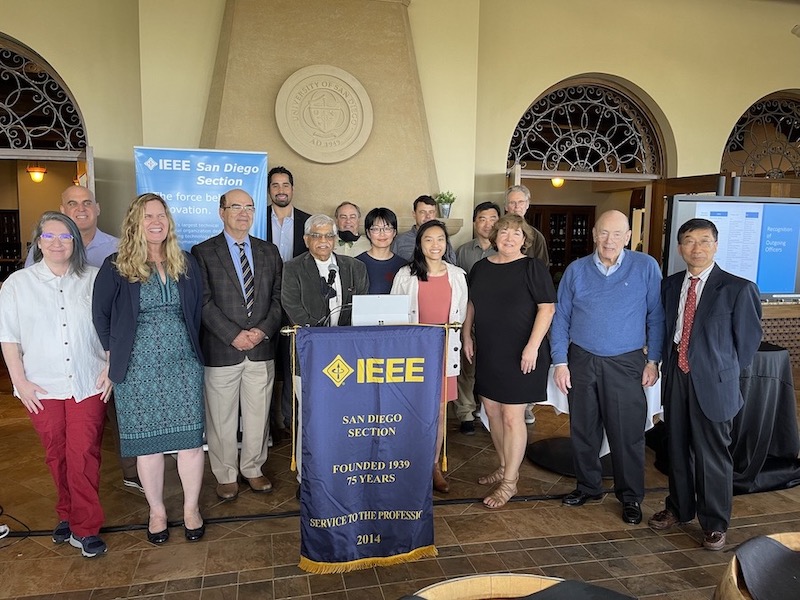 This annual luncheon event celebrates IEEE San Diego Section, its activities and events, and the contributions of its 2022 and 2023 leaders in IEEE San Diego. The program begins with a reception, followed by buffet luncheon and awards. This networking event is a great opportunity to meet local leaders and contributors to San Diego IEEE functions. All interested are welcome to join us -- please register here (complimentary for past chairs and 2022-23 officers, at our cost for all others).
In 2022, San Diego standouts included the IEEE Evening of Innovation and Honors Ceremony, and the IEEE WIE International Leadership Conference (WIE-ILC). In 2023, standouts will include 2023 IEEE International Microwave Symposium (IMS) https://ims-ieee.org in June, where WIE-ILC 2023 has colocated.
Agenda
11:00 Reception
12:00 Buffet lunch
1:00 Presentations, Awards Program, and Photos

For any further questions, please contact zzhang@ieee.org
---
Date and Time
Location
Hosts
Registration
---
Date: 21 Jan 2023
Time: 11:01 AM to 03:00 PM
All times are (UTC-08:00) Pacific Time (US & Canada)
Add Event to Calendar
Please use vtools registration. At La Gran Terraza on campus of USD. Parking is free on Saturday. Directions here: https://www.lagranterraza.com/contact
Note that Pre-Registration is necessary. Complimentary for invited honorees (2022 and 2023 officers, including San Diego student branch chairs, and all of the past San Diego Section chairs) who pre-register.) Each honoree may bring 1 guest if they pre-register. For all others: $30 for regular IEEE members and $15 for student members, $40 for non-IEEE members.
Please contact us if you have any questions on your status.
5998 Alcala Park
San Diego, California
United States 92110

Building:

Hahn University Center
---
Starts 12 December 2022 08:07 PM
Ends 17 January 2023 11:00 PM
All times are (UTC-08:00) Pacific Time (US & Canada)
No Admission Charge
---
---
Media
---