IEEE SWISS SSCS TALK : 55nm DDC Subthrehold MCU 2.5uA/MHZ by Marc Pons (Senior Engineer CSEM)
---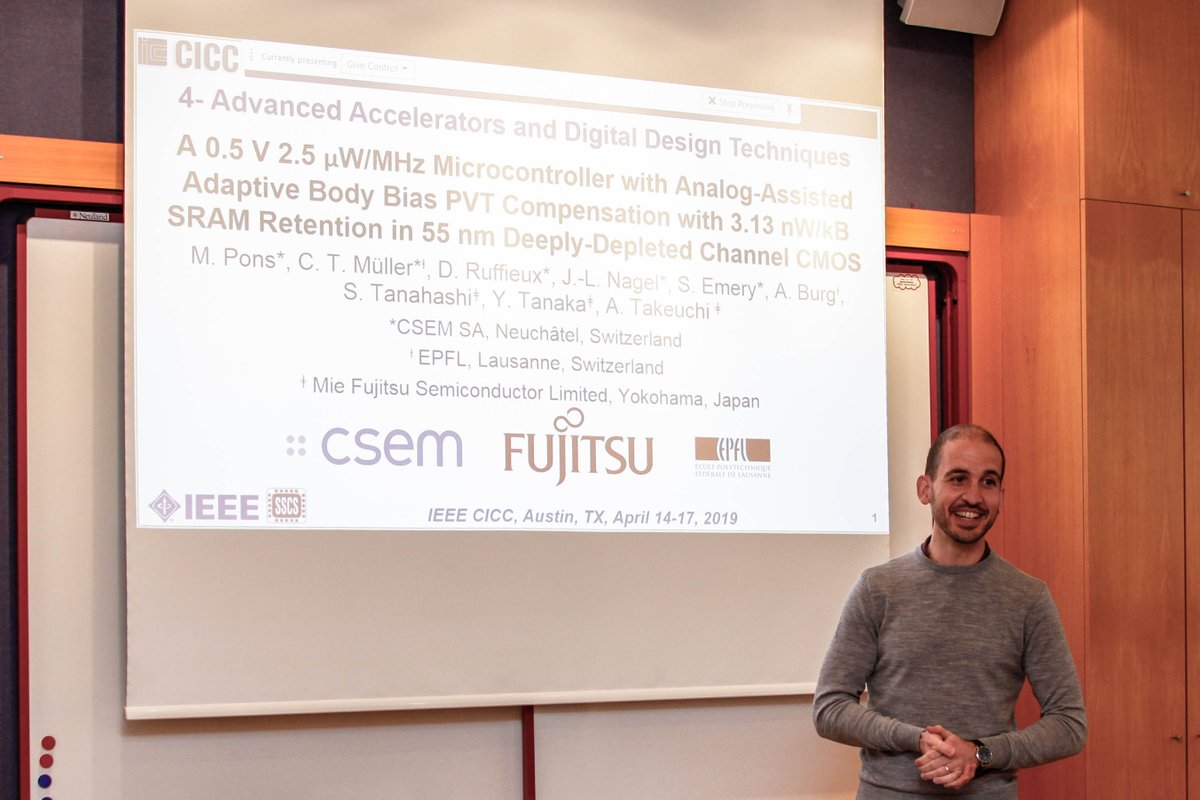 Dear Colleagues,
CSEM stand with a long Experience in ultra-low-power digital implementation.
Today's FinFet, FDSOI, SOTB offers improved opportunities. This work exploit strong body factor of deeply-depleted channel CMOS at 0.5V to compensate frequency over PVT to ±6%, achieving 30x frequency and 20x leakage scaling in a 2.56uW/MHz RISC-Core with 3.13nW/kB 2.5uW/MHz SRAM. The whole system offer Frequency-leakage configurability implemented by current-controlled adaptive body bias at a fixed supply voltage.
The paper presented as of CICC 2019, set a World record for MCU Energy efficiency.
We look forward to hear from Marc.
---
Date and Time
Location
Contact
Registration
---
Date: 26 Jun 2019
Time: 05:30 PM to 06:30 PM
All times are Europe/Zurich
Add Event to Calendar
ETH Zurich IIS Departement
Gloriastrasse, 35
Zurich, Switzerland
Switzerland 8092

Building:

ETZ Building Floor E

Room Number:

E81
Starts 03 June 2019 10:00 PM
Ends 25 June 2019 05:00 PM
All times are Europe/Zurich
No Admission Charge
---
Speakers
Topic:
55nm DDC Subthrehold MCU 2.5uA/MHZ
Biography:
Marc Pons received the M.S. (2005) and Ph.D. degrees (2012) in electrical engineering from the from UPC, in collaboration with the Intel Barcelona Research Center and CSEM SA on the topic of "Design for manufacturability and yield". From 2012 to 2014 he was Post-Doc at CSEM SA on the topic of Sub-Threshold design. Since 2014 to now he is a Senior R&D Engineer at CSEM SA, in the System-on-Chip, Integrated and Wireless Systems group. His research focus is related to low power SoCs.
Email:
Address:CSEM Headquarter, Rue Jaquet-Droz, 1, Neuchatel, Switzerland, Switzerland, 2000
---
Media
---